Welcome!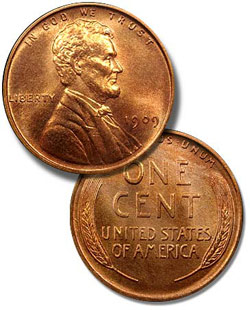 Welcome to the official internet home of the Society of Lincoln Cent Collectors! We are still working on our web site, so there may be some navigation issues until we get it completed. We hope to have a completely operational site by June 01, 2009. Until then, come back often and enjoy the newest parts of the site as we get them up and working.
What is the Society of Lincoln Cent Collectors?
We are a nation wide club devoted to our growing member base of Lincoln cent enthusiasts. Our members receive updated information regarding the on-going study of the Lincoln cent through our Quarterly newsletter, "Lincoln Cent Quarterly (LCQ)." Within the pages of this journal, our members and editors compile all of the freshest information about new discoveries regarding the series, new price records established through private sales and auctions, and some existing information that many in the coin collecting hobby never know or find out about this widely collected series.

In addition to the vast amount of information shared in the LCQ, we also hold a quarterly mail bid auction through which members can consign items for bid, and bid on other people's items. Many have found great deals upgrading their collections through this member to member auction.

Member dues for participation in the auctions and a yearly subscription to the LCQ along with yearly member access to the information provided on this site is $15. For new-members, there is also an option to save on your dues by joining for two years at only $25, a $5 savings over the normal two years' dues.